How I quit my job to go backpacking in South America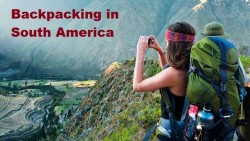 fredag 8 januar, 2016 - 19:00
Anca Dudau
'You're so brave!'. That's what most people said when Anca announced she'll quit my job to go backpacking alone in South America for a year. The truth is that it takes some guts, but there are also a lot of steps one can take to get prepared to be able to take such a decision.
19.00 – 19.30 – Arrival
19.30 – 20.00 – A step by step guide on taking the 'big' decision – by Anca Dudau
20.00 – 21.00 – Q&A panel discussion with 3-4 travelers
21.00 – Informal talks
Have you dreamed about taking a sabbatical to travel around the world? This meeting is for people who want to get some inspiration about backpacking in South America. If you have already been backpacking in South America and want to be part of the panel, pls write to anca.dudau@yahoo.com.
About Anca
'On January 17 I will start my first backpacking trip alone, flying from Rome to Sao Paulo. Then Iguazu, Argentina, Chile, Bolivia, Peru, Ecuador etc.I wanted to say a proper Goodbye to Copenhagen by sharing some of my initial fears and the steps I took to overcome them and finally make the leap.
When? Where? For how long? With whom? But why?
Money. Safety. Fears
Breaking the news. Parents. Friends
One way flight ticket
Job. Flat. Selling things
Vaccines. Visa
Backpack, clothes and equipment
Saying Goodbye"