A Copenhagen Dance Resolution with Salsa Bachata & Zouk event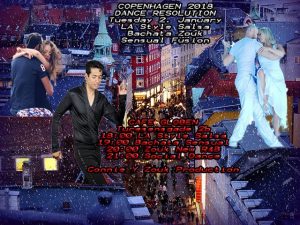 tirsdag 2 januar, 2018 - 17:00
We are happy to present this event with the experienced LA DJ and dance teacher Orlan. He is teaching in more styles and this night he will be teaching in Bachata Sensual, zouk and salsa.
The workshops and party is for all latin dancers, to get to dance and know each other across the dance styles. We believe that the more styles you can dance, the better dancer you become. The classes are not intros, but it workshops with great moves you can also use to fusion your dance with other styles.
You are in for a special treat that will only happen once. So don't miss out.
We have 3 workshop for you and a nice mixed social afterward where DJ Orlan will play great music for us.
17:00 Greetings hangout time at the Cafe (social dance warmup)
18:00 Bachata Sensual lesson with Orlan
19:00 Zouk Lesson with Orlan and Connie
20:00 LA Style Salsa Lesson with Orlan and Connie
21:00 – 24:00 Social Dance 40% Salsa, 60% Bachata/Zouk/Kizomba
Prices incl. one drink:
3 workshops + Social Dancing 110 kr.
2 workshops + Social Dancing 85 kr.
1 workshop + Social Dancing 65 kr.
Only Social dancing 50 kr.
With the latest music for social dancing with Los Angeles festivals, Las Vegas festivals and Aventura Dance Cruise quality music selections by DJ Cal Z (Orlan)
We will give you a voucher you can use in the bar for vine, beer, water or coffee/tea
More about Orlan:
Orlan M. known as DJ Cal Z who was one of the Salsa dancers in LA that introduced Zouk and Kizomba in California 5 years ago then fusion his Zouk with Bachata that is a style that's danced as Bachata Sensual that he experienced in Spain during his travel several years ago. He is a choreography and social dance instructor and DJ that plays regularly in LA Latin clubs, as well as teaches all styles of Salsa on1 on2 Cuban and Bachata Sensual Zouk fusion and Zouk and Kizomba. His latest gig was the big party in the Aventura Dance Cruise with over 1,000 dancers in a Caribbean Cruise Ship. He is set to play and teach next month in Las Vegas Zouk Festival and AfroLatin then Hawaii Salsa Bachata Congress a regular DJ dancer in the LA scene LA Festivals like LABF, BKS, & the prestigious LA Salsa Festival and Las Vegas Salsa Bachata Super Congress, as well as LA Zouk Congress and Kizomba at Sea Los Angeles. He will later also teach and DJ San Francisco California along with being in the Royal Kizomba festival in Copenhagen 🙂
More about Connie: 
Connie has danced all her life, she has performed with modern companies and musicals mostly in Denmark and Germany. She was Fernando Hernandes Salsa partner more than 10 years ago. She is also dancing tango and have danced zouk for almost 4 years. She has weekly classes in zouk every thursday at Islandsbryggge Kulturhus (also Intro and Practica with Zouk in Copenhagen Foreningen). www.zoukheaven.dk