Expedition to Denali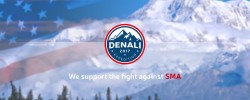 torsdag, d. 16. november 2017 - kl. 19:00
IN ENGLISH
Like every high-altitude mountain expedition and this one requires a lot of planning. Mountaineers patiently made their permits and visas as well as checked their equipment. Furthermore, systematic physical preparation  made of outdoor activities and high intensity interval training is basically a must.
None can also forget about appropriate psychological attitude which is the key to success. Denali (formerly Mount McKinley) is the highest peak in Cordillera and in North America. Thus, it is highly demanding summit.
After around 10 hours of ascending the climbers did manage to put their feet at the top of the Denali summit (6190 m a.s.l.). It was around at 17:00 on the 1st of July 2017. Everything was basically covered by clouds, however, the satisfaction fully compensated the lack of incredibile views from the summit.
Łukasz – one of the team member would like to share with you his impressions and experience after the expedition. Let us meet in Cafe Globen and join the sub-arctic mountain expedition.