Independent expedition to Afghanistan and Noshaq solo climb
tirsdag, d. 10. december 2019 - kl. 19:00
IN ENGLISH by Łukasz Kocewiak
Afghanistan is perceived as a country torn by wars for decades; a country, whose unstable political situation and a constant threat of terrorist attacks block the development of high-altitude mountaineering.
Let us try to find out whether safe climbing in the Afghan Hindu Kush is still possible.
We will speak about this with Łukasz Kocewiak, who — in the summer of 2018 — organised an expedition to the Wakhan Corridor and soloed Noshaq (7,492m), the highest peak in Afghanistan.
Our guest, Łukasz will have an exciting story about:
– a lonely journey through Central Asia, i.e. Tajikistan and Afghanistan
– traveling through a war-torn country in the immediate vicinity of an armed conflict
– cultural and anthropological aspects of the expedition, i.e. the unique Wakhi people culture
– expedition of Afghan women to Noshaq
– high-mountain expedition organized from scratch in an area without infrastructure and agency support;
– climbing in the Afghan Hindu Kush and solo ascent to the highest peak of Afghanistan, which is 7492 m high.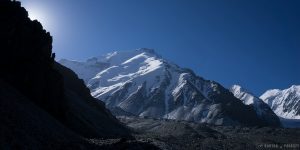 BIO: Łukasz Kocewiak – traveler and climber who lives in Copenhagen. Organizer of high mountain expeditions, including in the Himalayas, Pamir and Hindu Kush.
In addition to the above mentioned ascent to Noshaq, he climbed at Lenin Peak, Denali, Manaslu and Aconcagua.
He wrote a book about his lonely trip to the last peak entitled "Aconcagua. W cieniu Śnieżnego Strażnika". Łukasz is also the author of the popular travel blog www.kartkazpodrozy.pl, which is also where you can contact him. Further, Łukasz is a valued speaker at mountain and travel events.