Journey across North India on motorbike with stop in Ladakh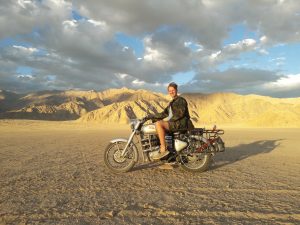 torsdag, d. 8. august 2019 - kl. 19:00
IN ENGLISH
By Simon Sulek:
At the age of 24, I did the most dangerous yet most empowering journey of my life. I started in New Delhi where I rented my Royal Enfield motorbike and headed north to reach town Manali which is at the beginning of Himalayas and besides other things famous for its hashish production. Then I crossed the famous Manali-Leh highway which is one of the highest roads in the world with multiple high-altitude passes, deep "trenches", desert, plains and beautiful views. Here I also got altitude sickness which was definitely an experience I will never forget.
After that, I stayed in Leh (Ladakh region) for about a month. Saw Nubra Valley, Pangong lake – the most beautiful place I have seen so far, saw Milky way, crossed the highest motorable pass on earth – Khardung La…. everything on a motorbike.
In Ladakh, I went also for the hike to Stok Kangri (6150m). Initially, I planned to join a group of people and go together with them. Eventually, there were not so many people planning to go to this peak and I didn't have resources to hire the guide. So, I decided to go for this adventure alone. Up until the basecamp (ca 5000m), it was ok. Then, I started my summit night alone which was one of the most dangerous and scary experiences of my life. I took extra oxygen into my backpack and started. Eventually, I made it to the summit. When I got back, I became a small hero for the people in the basecamp because I did this thing alone with no guide, no mules to bring my stuff up, no great experience.
After this was over, I continued with my motorbike to Kashmir to a city called Srinagar. The area is well known for the unrest which was visible in huge military presence and soldier with guns almost everywhere. On the brighter side, It was one of the naturally richest and beautiful areas I have seen. I finished my trip in a city called Dharamshala which is famous for being the home of Dalai Lama and its interesting meditation trainings. Looking at this experience now, almost a year later, I can say that it was definitely life-changing. I hope I can share some of my stories with you at Café Globen and offer my advice, tips & tricks to anyone who thinks about a similar trip. Looking forward to seeing you! Simon